Volvo
Vision 2020
The future of car buying
Volvo is one of the most progressive, human-centric brands in the world. However, buying a Volvo, or indeed any car, is archaic and unappealing to the modern consumer and dealers alike.
So Volvo came to us to help build a future-facing customer experience that promotes innovation and authentic customer service in an antiquated industry. But for any creative solution to survive, it must appeal to both the customer, and those who will lead the change – the dealer.
After visiting and gathering data from Volvo dealerships across N.America, five key challenges lay ahead of us.
Car dealers are aware that the system is flawed but don't believe change will happen in their lifetime. To instil a sense of urgency, we put the future in their hands – literally. We created Twenty-Twenty, a fictional automotive magazine, written in the year 2020, that looks back at how 2018 changes made a huge impact on the industry. By creating a physical magazine, the challenge ahead felt tangible, feasible and actionable.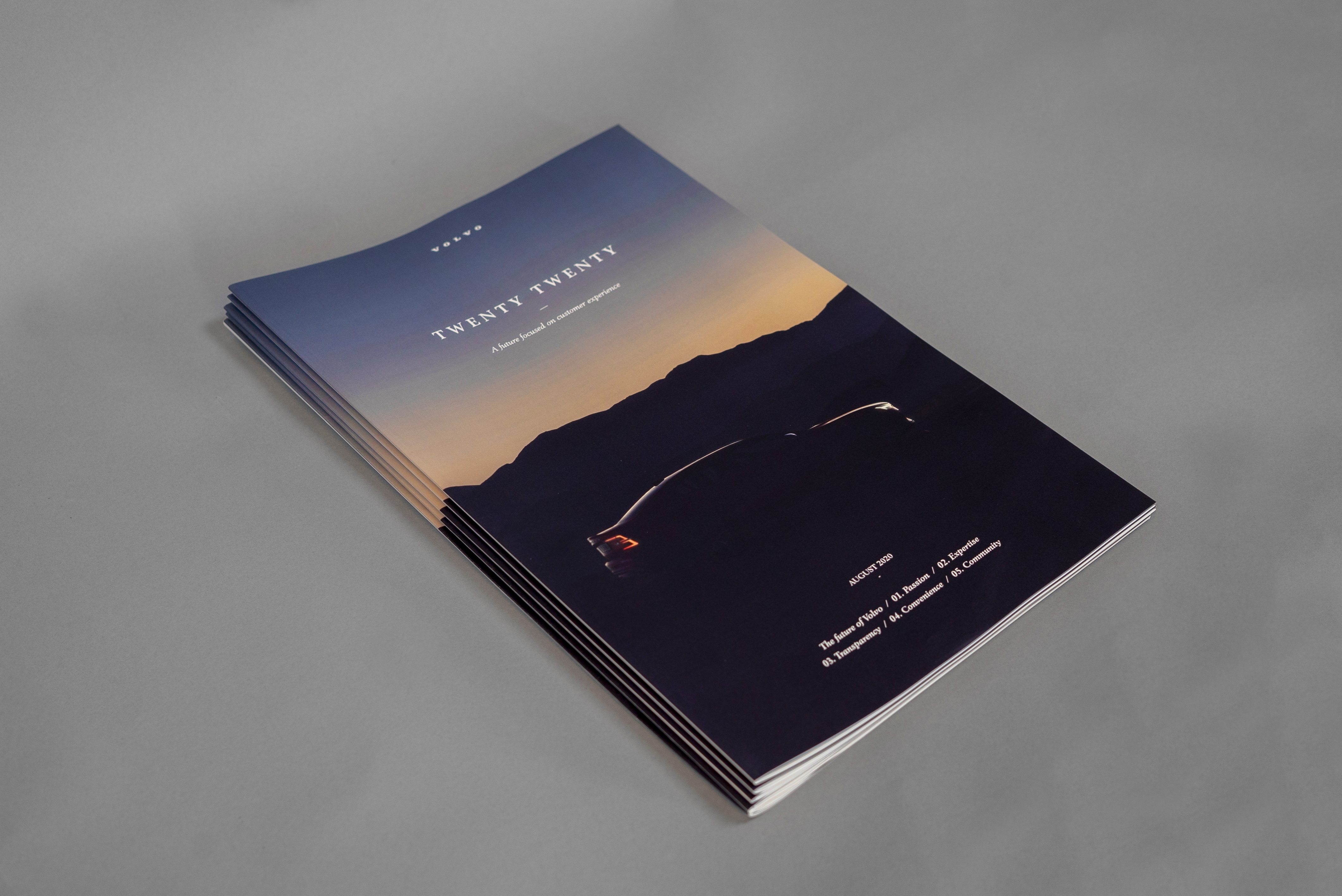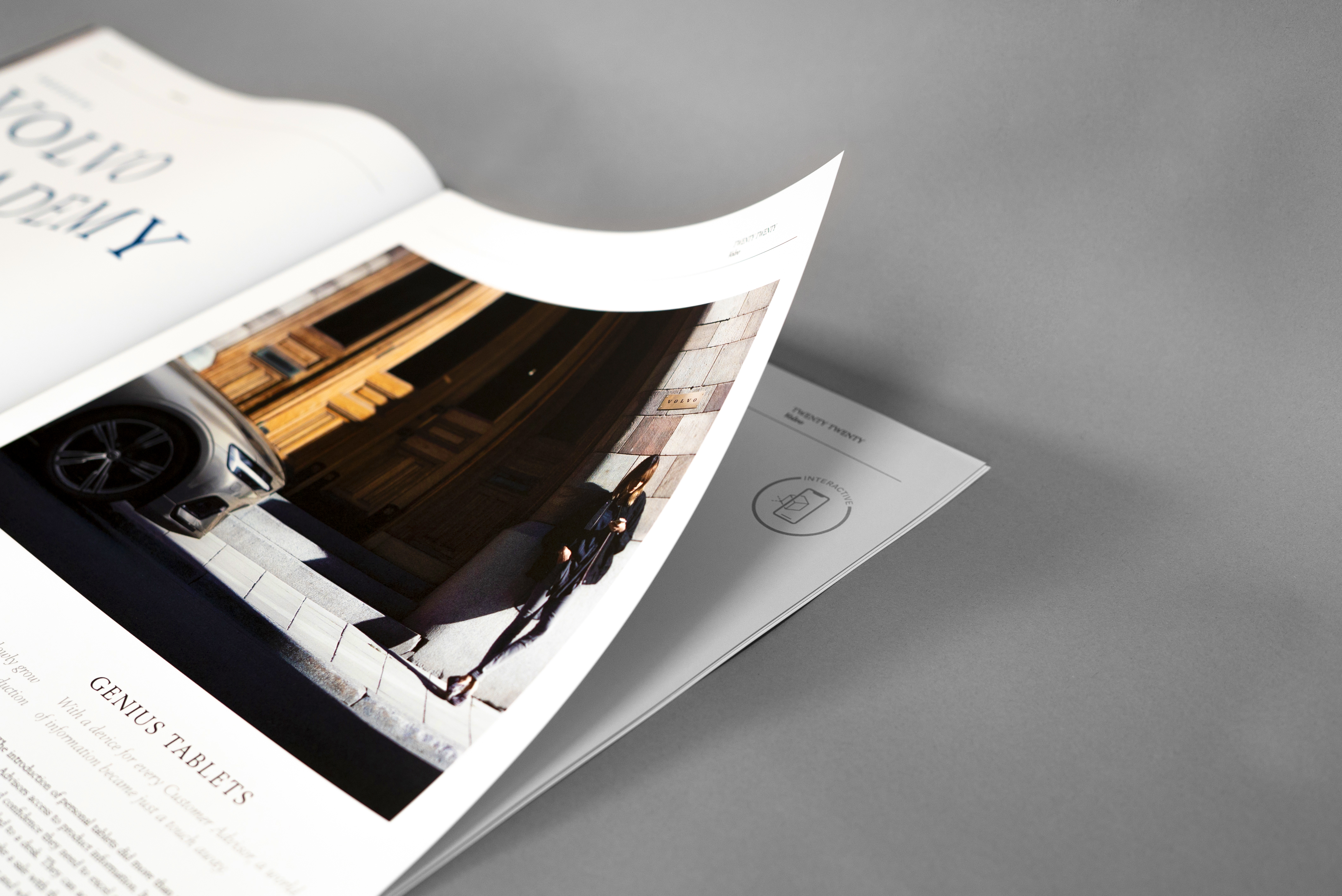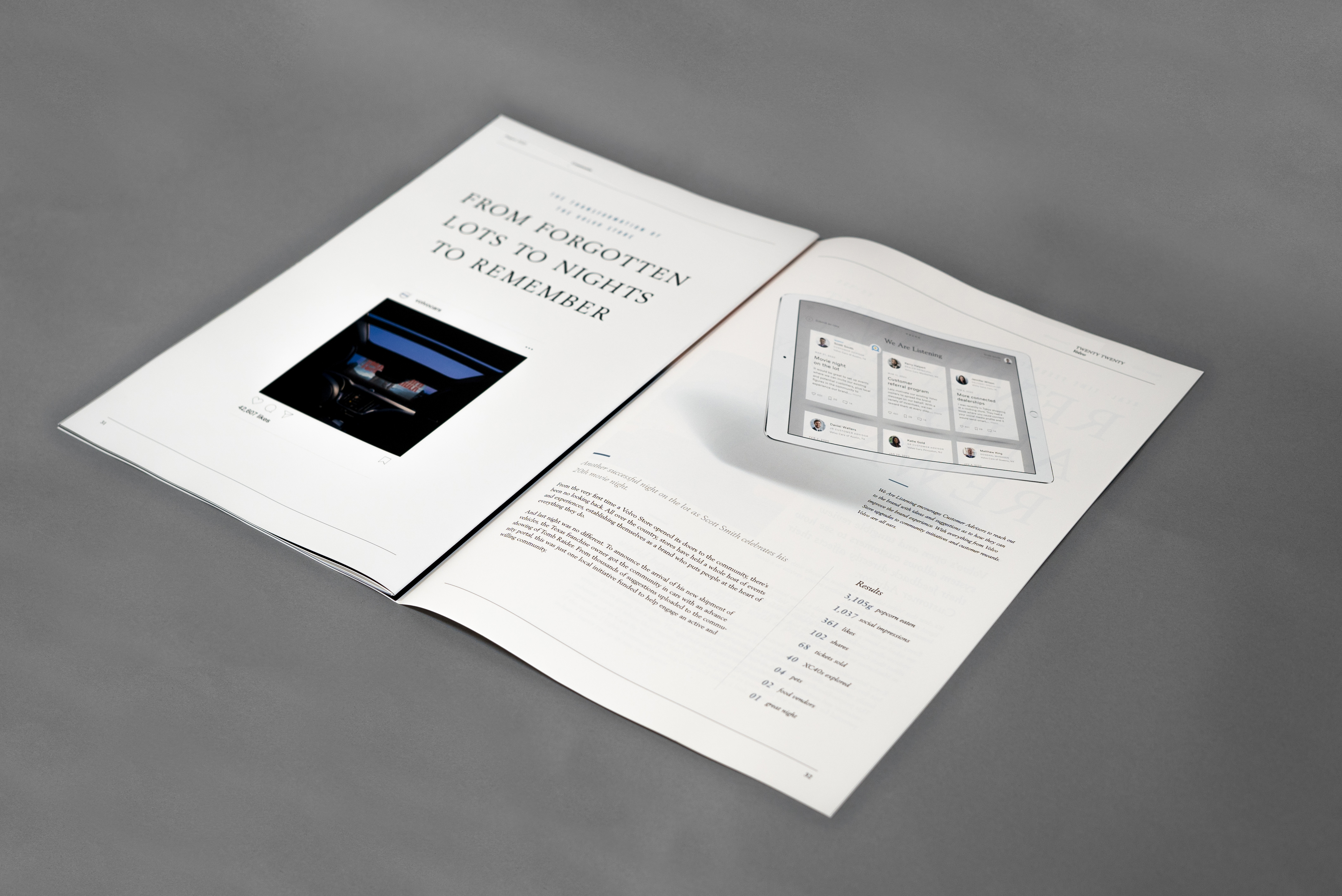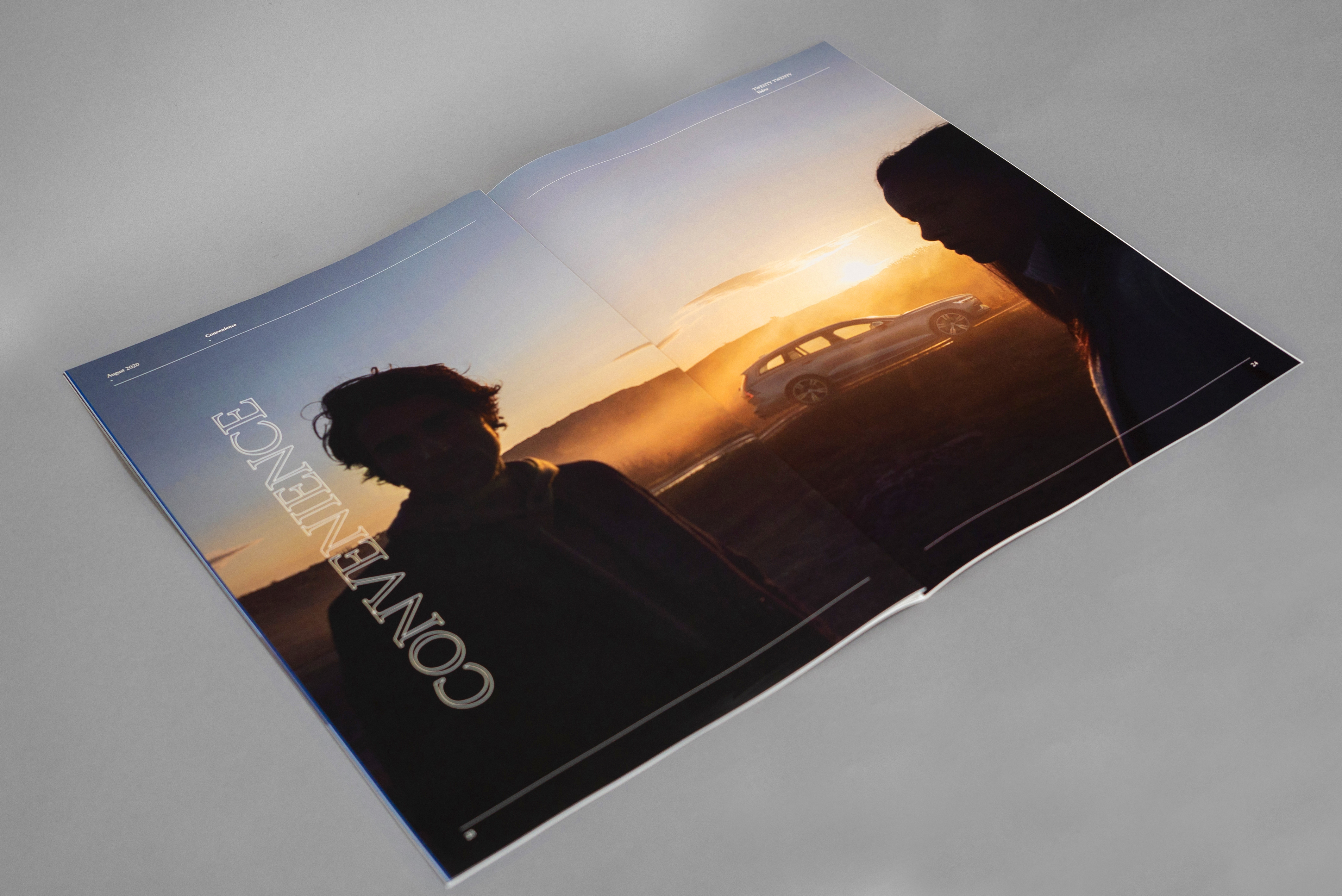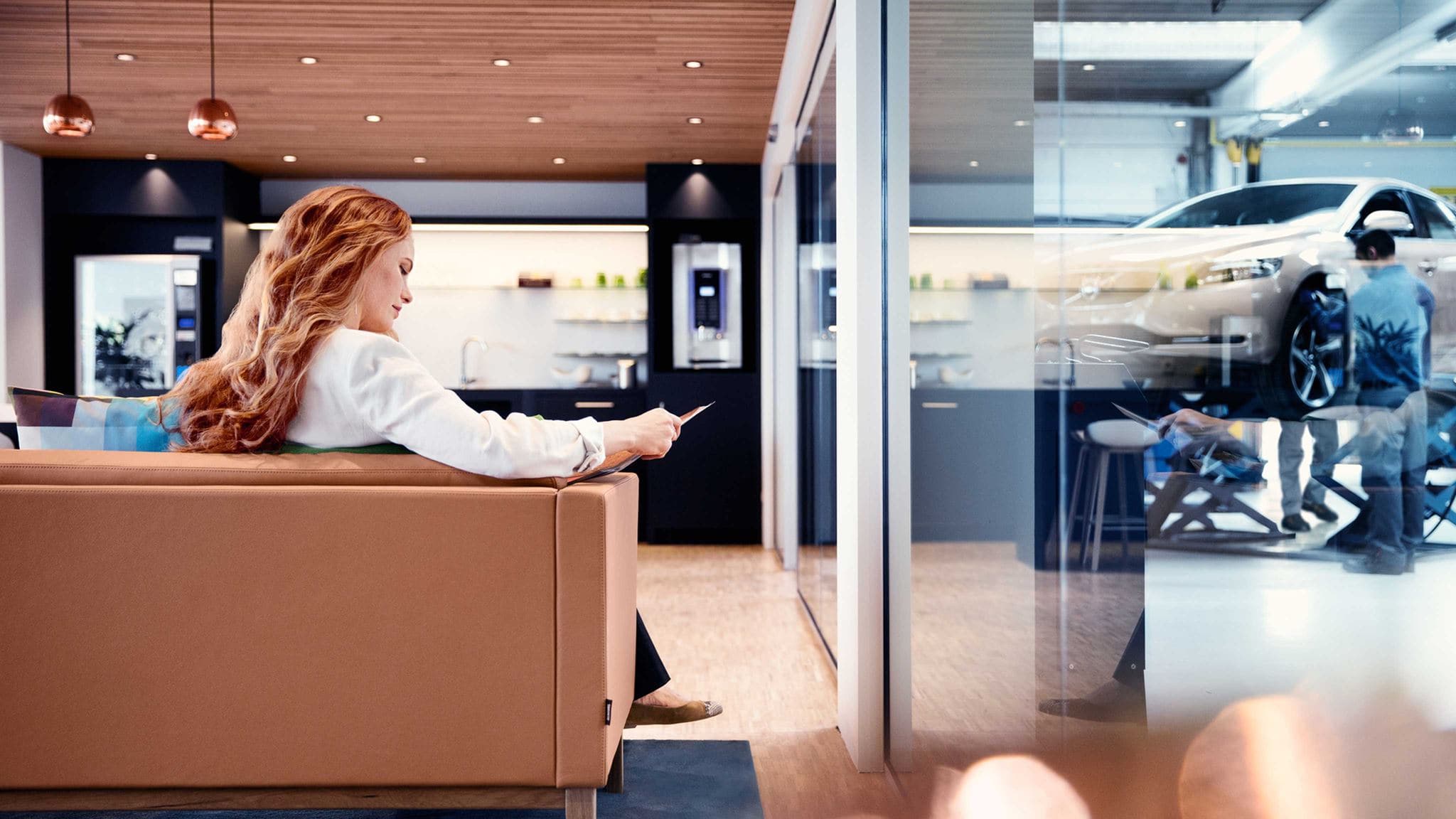 Challenge #2 – Trust and Transparency
"The lack of trust goes both ways"
Lack of trust was identified as the main friction point when buying and selling a car. The customers don't trust the dealers and the dealers don't trust the customers. Our solution, was Volvo Unlimited.
Volvo Unlimited, an initiative currently in planning, removes cars from the forecourt and keeps them in Volvo owned lots. So dealers do not have to pre-order vehicles in the hope they can sell them, and customers can order the exact model they want, not the one's the dealer has on their lot. This process lowers the purchase price for both the dealer and the customer, and dramatically reduces delivery times. Everyone's a winner.
"I'm no expert, but I don't trust this expert."
We've all felt that sense of unease when your car goes in for a service. Could it be cheaper elsewhere? Do they really need to do that work? How much do parts really cost? To tackle this, in 2019, Volvo is rolling out 'Transparent servicing'. A fully open system that incorporates features such as accessible parts lists, regular updates to your progress and live feeds of service bays, to set everyone's minds at ease.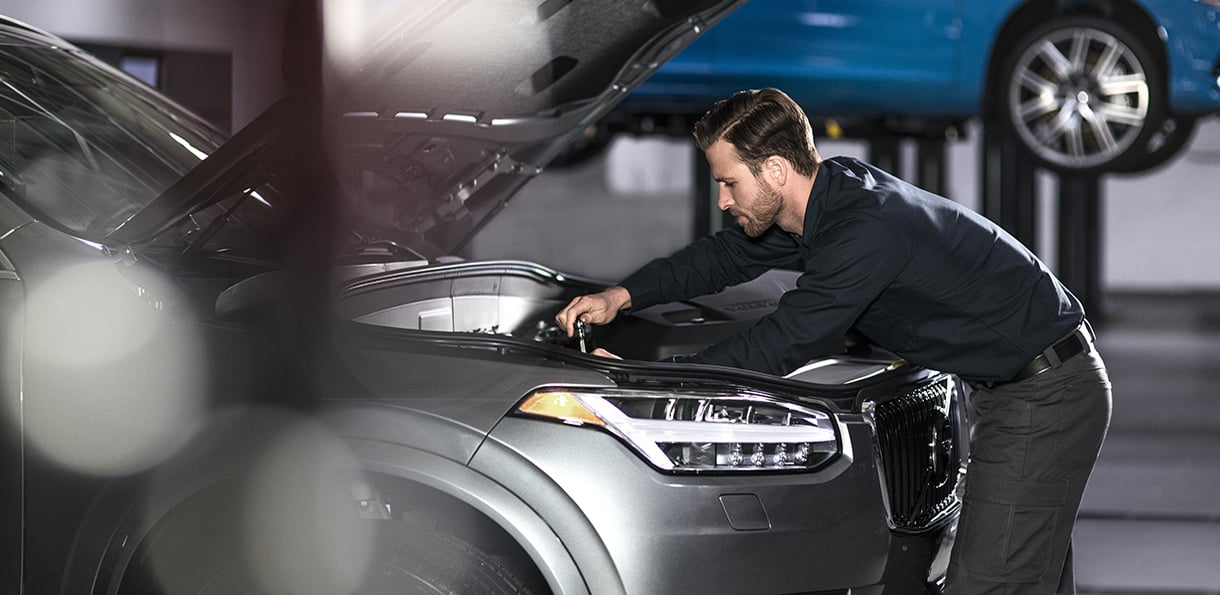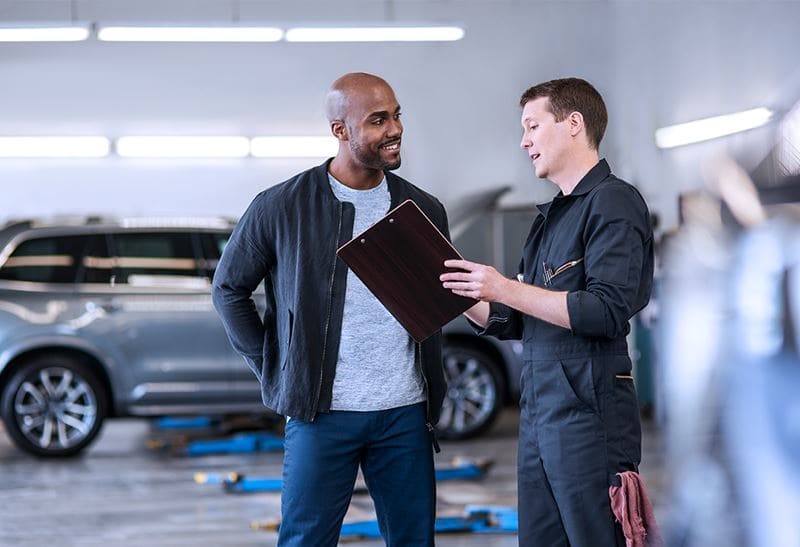 Challenge #4 – Passion & Expertise
Many car dealers sell more than one brand, which can be problematic when competitor brands' KSP's are clearer defined (BMW = Power, Mercedes = comfort, etc), and Volvo's past success have skewed customer perception (Safety). Volvo asked us to help educate their dealers to better deliver an impassioned sales pitch – one they truly believe in and rings true to the brand ethos.
With personal sales tablets, we introduced gamified learning, to educate dealers in a way that's enjoyable and easy to digest. The tablets are also able to offer live, up-to-date information on any Volvo vehicle in just a few taps.
Challenge #5 – Innovation
"Technology for technology's sake"
Most major brands claim to be at the forefront of innovation – but the average customer rarely sees these supposed breakthroughs. So we wanted to innovate in a way that's actually useful for existing and potential customers. We introduced services such as pick up and drop-off weekend test drives, fingerprint payment, AR vehicle exploration and text communication with dealers – directly via Volvo print ads. So whenever you see a Volvo print ad, you can scan to explore, book a test drive or even buy a vehicle with the touch of a few buttons.
Creative Direction: Joe Fox
Creative Direction: Ricky Bowry
Group Creative Director: Resh Sindhu // Designer: Felipe Yamaoka, Antoine Christian // Tech: Chewy Wu // Strategy: Dan Ansell, Emma Greenwood // UX: Gabriel Beck // Client Services: Sarah Gosselin // Project management: Jerome Madlamb